This week I sat down with one of my favorite chefs and the owner of Charlotte's #1 rated restaurant on YELP, Vic "The Chili Man" Werany. He's a man that marches to the beat of his own drum, consistently finds the funny in every situation, and is truly one of my all-around favorite humans.
You may recognize him from his viral Panthers playoff videos, his cameos in Super Bowl commercials, and the Johnny Knoxville movie Bad Grandpa, but his legendary culinary creations are what he's truly famous for. Crafting such delicious gems as the Bleu by You Dog (smoked bleu cheese, spicy bacon, creole aioli, and green onions), If Looks Could Kale (kale pesto, arugula, spinach, with a Parmesan cheese crisp), and Poblano Picasso (homemade pimento cheese, roasted poblano pepper strips, chili, and pepper aioli.) And, in a tip of the cap to vegetarians, you can find vegan chili dogs on Wednesdays. The favorite dog of Panthers MVP Quarterback and regular customer Cam Newton.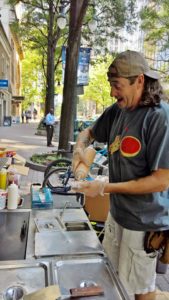 I've stood in line for years listening to Vic pontificate on everything from Panther's football to lingerie, so when I started the podcast he was on my early list of people I wanted to talk to. And, I have to tell you, he did not disappoint.  Vic is a born storyteller, and in this episode he dishes on arresting Ric Flair the very same day his signature "Chili Man" monicker was born, playing alongside Johnny Knoxville on the big screen, and his #1 secret to success. (We found the Ric Flair video! You can watch it in all of its splendor below.) You can also find the books and other content discussed during the episode linked below. 

You can find him on Facebook, Twitter, and Instagram, and you can find him on the streets for lunch Tuesday-Friday at 4th and Tryon. Vic is also available for private catering.
Content Links
You can find me on Twitter, Instagram, Facebook, & LinkedIn. 
As always, the podcast is available for download from the iTunes Store, Google Play, Stitcher Radio, and TuneIn. You can also download this episode HERE. And, please, if you enjoy the show hit that subscribe button and give us a 5-star rating in the iTunes store.
Are you thinking about taking the first step? Are you hesitating? Already moving toward your goals? Wherever you are right now I want to hear about it. Send me a message HERE.