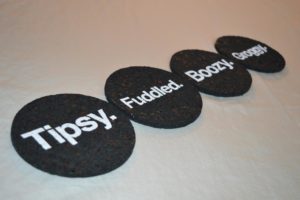 Jason Mailot is the founder of East Coasters, a company dedicated to making unique and functional products from discarded rubber that was destined for the landfill.
Jason is an old friend and one of the most charismatic people I know, so it was an absolute joy to have him in the studio this week.
Jason is the embodiment of achieving success through sheer force of will. After leaving college with a degree, a mountain of debt, and no direction, he bounced through jobs, butted heads with bosses, and quickly discovered that he wasn't built for a lifetime of taking orders. So, with little more than his unbridled tenacity, some maxed out credit cards, and his supportive wife Kaitlyn, Jason flung himself face first into the world of entrepreneurship founding East Coasters in 2014.
From the early wins to the devastating setbacks Jason maintained his trademark determination, always looking for new angles and never afraid to do the hard work himself. Clearly, that persistence paid off, as East Coasters has amassed tens of thousands of loyal fans from around the world that allow him to do the job he loves every single day.
In this episode we not only dig into what Jason is up to today, we also hear the often hilarious backstory of how it all came together.
Enjoy!
You can find Jason and East Coasters on Facebook, Twitter, Instagram, Pinterest, and at EastCoasters.org.
Enter to win an East Coasters doormat or coaster set by texting the word COASTERS to 444999






Content Links
You can find me on Twitter, Instagram, Facebook, & LinkedIn. 
As always, the podcast is available for download from the iTunes Store, Google Play, Stitcher Radio, and TuneIn. You can also download the episode from the player at the top. And, please, if you enjoy the show please hit that subscribe button and give us a 5-star rating in the iTunes store.
Are you thinking about taking the first step? Are you hesitating? Already moving toward your goals? Wherever you are right now, I want to hear about it. Send me a message HERE.